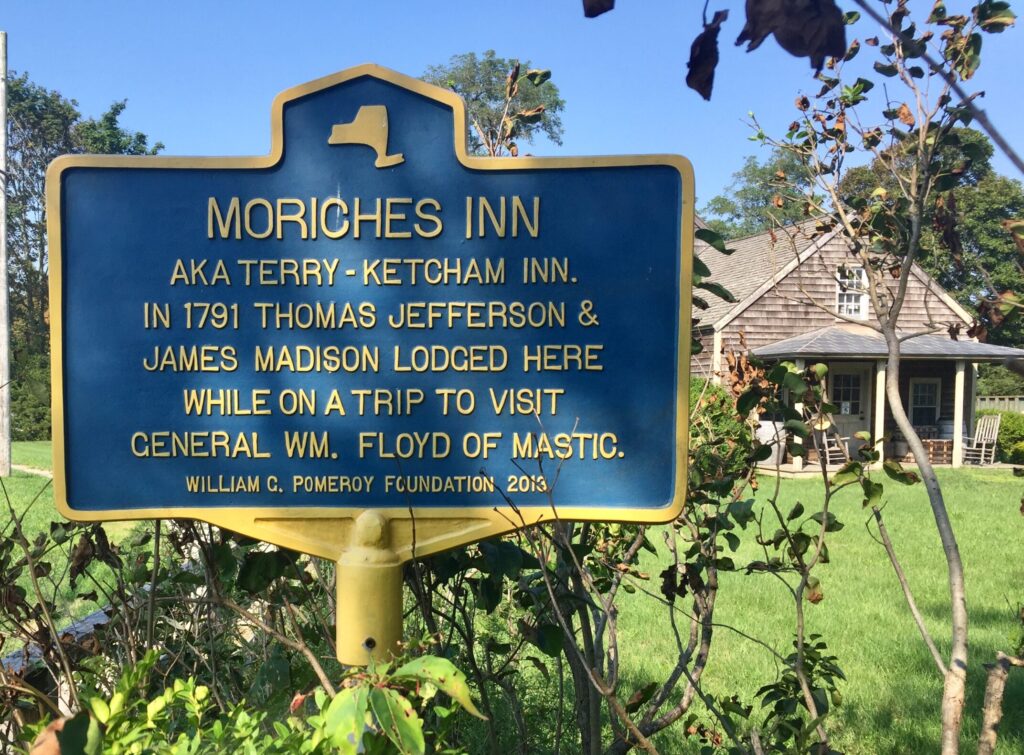 Ketcham Inn Foundation, Inc. interprets over 330 years of history on Long Islands South Shore. Established in 1989, the Foundation developed a mission to restore the Terry-Ketcham Inn, a settlement site, resident blacksmith, social center, meeting house, former stagecoach stop between Manhattan and Sag Harbor during the 18th and 19th century. Today a well established living History Museum and Cultural Center for the education of American heritage.
Our Mission
Ketcham Inn Foundation, Inc. has developed a comprehensive statement of purpose, which shall be used to guide the foundation in its efforts to secure public funding. The Foundation is not just concerned with the restoration of the Havens-Terry-Ketcham Inn, but has an ongoing mission prioritized to serve the needs of the Moriches Bay Area as follows:
Restore and Maintain the Havens-Terry-Ketcham Inn as a House-Museum of 17th, 18th, 19th Century Life in the Moriches Bay Area. Volunteers demonstrate the use of Colonial Artifacts and Equipment and staff the museums.
Collect, Restore and Preserve Artifacts, Furniture, Equipment and Documents that are historically illustrative of Moriches Bay farm life. These collections shall be accessible to both the public and scholarly research.
Serve as a Performing Arts Center for Re-Enactment Troupes, Dance and Musical Ensembles and Vocalists.
Serve as a Center for the Exhibition of Crafts, Fine Arts & Artifacts of interest to the community.
Provide Fellowships to Promising Scholars, Artists and Artisans to teach their craft(s) to local school children and adults at our historic sites, in addition to working on their own projects.
Serve the Moriches Bay Area as a fully equipped Educational Campus with Conference, Studio, Seminar, Classroom and Shop Facilities to teach the community at large the unique cultural heritage of this region.
Work with local nature conservancies, civic organizations, land trusts and historical societies for the Preservation and Restoration of the Moriches' Landscape-Streetscape and the Existing and Proposed Greenway Corridors to the Moriches Bay Area.
Our Future
Develop a master plan including our heritage properties for coordinated use as Heritage Tourism. Heritage sites included in master plan are: Terrell-Havens-Terry-Ketcham Inn, John Scudder & Mary Pelletreau Havens Homestead, Mary E. Bell House, 5-acre Pasture County Parkland, 260-acre Havens Estate Terrell River County Park Preserve, 10-acre Smith Farm Brookhaven Town Park, Kaler Pond Brookhaven Town Park (mill pond, mill dam, and spillway).
Develop the Pasture's two existing buildings into a Welcome/Visitor Center to the Moriches, adding a new structure for coordination of cultural activities, tours, and Long Island historic and general information.
Add to the Pasture a grass-covered crescent-shaped earthen berm and performance platform for Summer social activities with a temporary seasonal canopy.
Develop educational trails with permanent signage through the Pasture into the Terrell River County Park to the Bay.
Add a pedestrian bridge from the Terrell River County Park to the Smith Farm Park to enable safe passage by pedestrians and bicycles. Bridge to enable viewing of Terrell River, east bank of the Terrell River County Park, and west bank of the Smith Farm.
Develop Smith Farm as an educational campus for all arts/cultural activities including a ramp for kayak/canoe rental onto the Terrell River.
Develop specific uses for six existing Smith Farm structures: Dutch Gambrel c. 1700s museum for Long Island South Shore/Bay Area farms. Camp Upton Building to be museum for all military conflicts. Victorian open for general public use, clubs, etc, to retain one-room parlor with Smith family history and furnishings. Incubator Barn used for fine arts, developing paint/clay studios, hands-on American craft studios, spilling out into the field with sculpture garden and other creative venues. c. 1940 Cape used as a caretakers cottage for the site. Tin Barn to be used as a fundraising venue of all kinds for all organizations with a proportion of funds to support cultural/educational programs. Property is large enough for horticultural programs including, but not limited to, the planting of fruit trees, grape vines, and other produce as examples to visitors of Long Island farm life.
Develop year-round cultural activities at each site.
The Ketcham Inn, Book Barn, Havens Homestead and Museum Shop are all handicapped accessible.
KIFI is a registered 501(c)3 not-for-profit. EIN: 11-3021154
We file an annual financial report with the Charities Bureau, Office of the Attorney General. Pursuant to Article 7A you may request a copy from the Attorney General, Charities Bureau, 120 Broadway, New York, NY 10271.